The POWER-Solving® Curriculum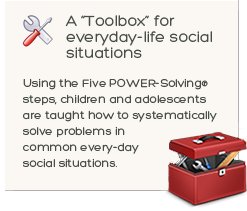 POWER-Solving®: Stepping Stones to Solving Life's Everyday Social Problems is a social skills curriculum designed to teach children and adolescents to become independent problem-solvers via a hands-on, user-friendly, positive-practice, interactive approach.
POWER-Solving® is a well thought-out and tested tool for teaching students the critical social skills they need. It has been used in classrooms, summer programs, clinical settings and home environments.
Social skills learning supports success in school, at home, in the community, and in future work life. Strong social skills help to foster and maintain positive relationships with others and contribute to peer acceptance required for success.
Most curricula in the field provide children and adolescents with a skill set for specific, discrete social situations.
While this is valuable, the authors have consistently found that the POWER-Solving® problem-solving approach helps children and adolescents to generalize and apply learned skills within a multitude of situations and across multiple settings.
With POWER-Solving®, students are instead taught how to problem-solve first using their "toolbox" (i.e., the five steps of POWER-Solving®). Subsequently, they can apply this "toolbox" to various challenging social situations, which allows them to develop and enhance their social-emotional skills.
POWER-Solving® incorporates many states' Core Curriculum Content Standards, promotes sensitivity regarding multi-culturalism and individual differences, emphasizes a process approach, develops higher-level thinking, and provides practical activities and strategies for adults to facilitate generalization across various settings.
Our goal is for children and adolescents to learn valuable POWER-Solving® skills that they can apply to an infinite number of social situations throughout their lives. Click here for more information on the POWER-Solving® instructional approach.
Through the use of child- and adolescent-friendly, engaging materials, which rely heavily on visual cues and supports, participants gain the "tools" necessary to successfully problem-solve.
The POWER-Solving® curriculum includes various modules which represent common social situations that children and adolescents experience. It is recommended that they complete the POWER-Solving® Introduction Workbook first. Subsequently, they can begin working on any of the modules.
Click here for more information on the components of the POWER-Solving® Curriculum.